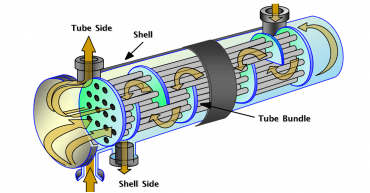 Shell and Tube Heat Exchangers
Thermaflo Engineering, Inc. offers standard and custom U-tube type shell and tube heat exchangers which are construction to ASME Code Section VIII and stamped. They are manufactured in sizes 4" to 30", and engineered for specific applications. The materials of construction available are carbon steel, 316 stainless steel, cupro nickel, bronze and copper.
Inner tube bundles are available in single or double-wall construction. Thermaflo Engineering also offers "Replacement Tube Bundles" for existing equipment. These can be custom fabricated to meet your application.
Product Literature and Submittals
Consult factory for certified dimensions and construction submittal, the drawings on the website are for reference only.